Enter your details
If you want to download this article in PDF format, you must indicate your name and email
Al pulsar el botón de envío manifiesta haber leído la siguiente información básica sobre privacidad: El responsable del tratamiento es Buades Legal S.L. La finalidad es la atención a su solicitud de contacto. La base jurídica es su propia solicitud. Sólo comunicaremos sus datos por obligaciones legales o con su previo consentimiento. Tiene derecho a acceder, rectificar y suprimir los datos, así como otros derechos como se explica en la política de privacidad web disponible aquí
All fields are mandatory and you must accept all the conditions to download the PDF
Todo ok
Send my data
For a project to achieve recognition at national level is a great morale boost and a clear indication that things are being done right. Bufete Buades has invited us to share our experience of how the 'Nos queda la palabra' initiative evolved to become the winner of the Best Legal Marketing Campaign in Spain at the first edition of the Legal MARCOM awards in 2016, among law firms inside their category.
The story begins in June 2015 when Pau Nadal, Project Director at C3PO, told us that the firm was looking to initiate a creative campaign with a different design approach that would break with the traditionally sombre image of the legal world. At that precise moment, one of the office computers was playing Paco Ibáñez's musical interpretation of Blas de Otero's poem, 'Me queda la palabra' (in English, 'The words remain'). Minutes later, inspiration fired the collective imagination of our creative team, who decided there and then to devise a strategy that focused on language as the central element of the dialogistic nature of the lawyer figure, and as the honourable expression of his or her professional judgment.
Here is the poem:
If I have lost my life, my time, all
that I tossed, like a ring, into the water,
if I have lost my voice among the mass of entangled weeds,
the words remain.
If I have suffered thirst, hunger, all
that was mine and turned out to be nothing,
if I have scythed the shadows in silence,
the words remain.
If I opened my lips to see the face,
pure and terrible, of my homeland,
if I opened my lips till they were torn to shreds,
the words remain.
After reading it, listening to it and reading it over and over again, we got in touch with Bufete Buades to propose the idea. The firm's legal team gave one hundred per cent commitment in their feedback and their team effort, helping us to fill out our proposal and explore future adaptations of a campaign whose intention was to highlight the power of language as an essential mechanism for social harmony in a state governed by rule of law.
So then, with the collaboration of all the firm's lawyers, we studied the possibility of putting together a series of reflections by key historical figures which uphold the value of dialogue and freedom of expression as essential elements in the progress of civilisation. We aimed to bring these to life in high-impact graphic advertising pieces via their respective channels. All the lawyers contributed suggestions until we had assembled dozens of representative quotes worthy of spotlighting. Once the pieces were designed and released, we very quickly noticed that the campaign was proving exceptionally popular, with the firm beginning to receive favourable comments and reviews congratulating it on the launch of the initiative.
At that point, we decided to take the project a step further and increase its visibility by creating its own website: www.nosquedalapalabra.es. Because the firm was keen to involve its lawyers as much as possible, we shot some short audio-visual clips, many of which used an interview-dialogue format, to record the advocates' thoughts on diverse aspects of their respective practice areas. One more demonstration of the firm's commitment to bring accessibility, modernity and originality to the legal tradition in the present-day legislative process.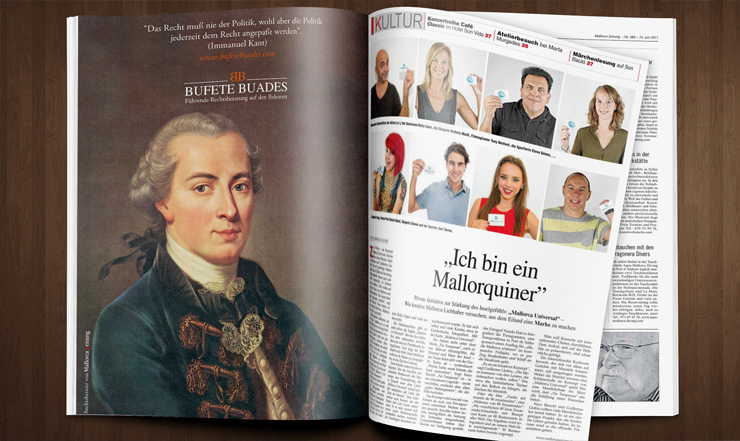 Developing this campaign has been a rewarding experience for C3PO USAL AFUERZA, for the recognition it has received at national level within the sector, and for the satisfaction derived from having worked in and as a team. Just as for Bufete Buades, the power of language and the weight of argument are key elements of our work, and playing with language, both visual and textual, is a day-to-day challenge in our work.
Finally, we would like to congratulate Bufete Buades on its firm and constant commitment to situate concepts such as 'renovation' and 'innovation' in all their endeavours, introducing these especially into the DNA of their communications processes. For us, the project was a real challenge and a continuous learning curve, during which we worked hand in hand with the firm's management team, headed by Joan Buades, whom we wish to thank. We also wish to thank the legal and administrative teams for their ongoing willingness to accept guidance and advice, and to acknowledge the involvement of the entire firm in every one of the proposed internal and external initiatives.