Enter your details
If you want to download this article in PDF format, you must indicate your name and email
Al pulsar el botón de envío manifiesta haber leído la siguiente información básica sobre privacidad: El responsable del tratamiento es Buades Legal S.L. La finalidad es la atención a su solicitud de contacto. La base jurídica es su propia solicitud. Sólo comunicaremos sus datos por obligaciones legales o con su previo consentimiento. Tiene derecho a acceder, rectificar y suprimir los datos, así como otros derechos como se explica en la política de privacidad web disponible aquí
All fields are mandatory and you must accept all the conditions to download the PDF
Todo ok
Send my data
The name Albert Pinya is synonymous with success. Born in Palma, Mallorca, in 1985, Pinya is one of Mallorca's most active artists young, alert, polite, and extremely charming. Generally speaking, his work draws on an intentional, ironic naivety with which he manages to dismantle the perverse structures of reality. He has rapidly developed an identifiable signature style, incorporating codes from popular culture, comic books, illustration and a meditated naive aesthetic that conceals a precise treatment of the themes he explores. Pinya defines himself as a "creative humanist" because the focus of his obsession is the study of how human beings relate and connect to their surroundings.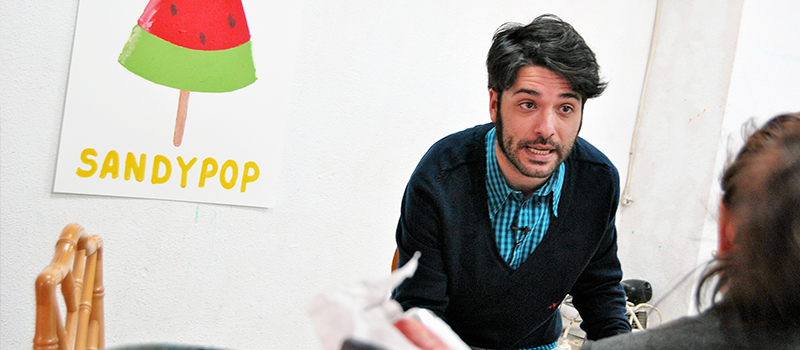 Albert, what inspires you?
Everything that is part of life inspires me. Obviously, some themes are more recurrent than others the interest in "agro-power", for example, the ultra-local dimension, and poetry, always poetry. I particularly like those influences that refer us back to our ancestry and back to the land, those that come from peripheral cultures and rural life. Today, it seems to me that they provide some of the most valid responses to today's modern societies – victims of excess and abuse of new technologies – not just in the pictorial sense, but as a question of personal attitude. That's why I reclaim the ancestral nature of things. Curiously, in some sectors of the art world, certain lobbies are set on the idea of -destroying" or "murdering" painting, saying, "Painters should be in archaeological or prehistoric museums" or, "Painting is an anachronism", or that contemporary artists today have to be video-artists or digital photographers or transvestites… There's a lot of stupidity out there, we know that. Technological art casts no shadow. And we live in a world in which everything has shadows and ghosts. And I don't intend to abandon them.
Could it be said that the message of your work is to reflect on where human beings come from?
One of my obsessions focuses on observation and on the study of how human beings relate and connect to their surroundings. Though I must admit I tend to be more interested in how human begins function socially rather than individually. I am constantly looking for answers to the diverse conflicts that surround us. And I think that should be one of the basic functions of the contemporary artist. The insatiable capacity to challenge and reevaluate existence, history and, for that matter, life itself. Or as Sanchez-Castillo would say, "And what is the role of the artist? To demonstrate contradiction. That crack through which a doubt is created." Amen.
Your work received an ARCO [International Contemporary Art Fair] award. What did winning the award mean to you?
Well, to be honest, when I received the award, I didn't know it existed. The repercussions were huge and I understood that it was an important recognition. In any case, awards are somewhat anecdotal. It's the trajectories that are important.
Why do you think people criticise some of the works presented at art fairs like ARCO?
I think one of the big problems, apart from the voracious ignorance that exists, in Spain above all, is that the public professes to want to understand everything it sees. And an emotion cannot be rationalised. In art, intuition is more important than reason. As in poetry.
Have you ever been afraid to make a mistake?
Error and failure are part of the creative process. If you don't make mistakes, you don't learn. If you don't take risks, you don't win.
What is your relationship with Joan Buades?
Joan is passionate about contemporary art and that is the principal bond between us. I like him because he is a person with a great sense of humour, which is a quality I value above many others. It is fundamental. At my age, I could be his son, but I feel sure that, if we were closer in age, we would be accomplices in many other things.
What are you working on at the moment and what are your projects?
I finished 2015 exhausted from the maximum effort that went into four individual exhibitions during the year. At the Allegra Ravizza gallery (Lugano, Switzerland), the Cervantes Institute in Berlin and Milan, and also an artist's book in collaboration with the poet Ángel Terrón, edited by Edicions 6a Obra Gráfica of Palma de Mallorca. Of the projects I-m currently working on, two" stand out. The first is a project based on the "Tots els sepulcres" [All the sepulchers"] trilogy by the poet Jaume C. Pons Alorda, which will culminate in an exhibition as part of the Leselenz Poetry Festival in the city of Hausach in Germany next June. The poet himself will curate the exhibition along with the festival curator, José F. A. Oliver. On the other hand, in parallel with this show, the poet Jaume Manur and I are involved in an editorial project that deals with fauna and the different species indigenous to Mallorca, in another attempt to connect poetry, painting and, very importantly, teaching units that can be used in schools.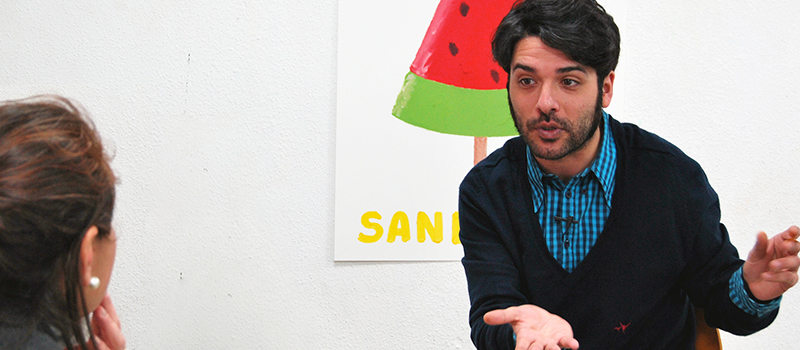 And how do you prepare for all this?
Just like any person in my situation. By staying focused, being very alert, having patience and also, mainly, a lot of dedication and persistence. Art = Life
How do you see yourself over the next five years?
I can't tell you, I'm afraid. Things live in me, not in time. And in me, everything is present.

A regenerative activity after a long, hard day's work
Caresses, hugs and kisses.
Your favourite Mallorcan dish and the person that does it best
"Cheeks of black pork" made by the chef María Solivellas.
A drink your home can never be without
Laccao [a Mallorcan brand of chocolate milkshake].
The image that best embodies happiness in your childhood
The Boomer chewing gum that my father would buy me every Saturday afternoon at the village shop.
A historical figure you would have liked to meet and why
Dracula. Because he is like painting. He dies and comes back to life.
The quality you most admire in a person
Enthusiasm.
Albert Pinyas is never far away from…
His fascination with Twin Peaks.
Previous interviews:

Miquel Roca: "Suicide is the major cause of death in under-35's".

Franz Kraus:"The country people of Mallorca are the real gardeners behind the hotel industry".