Enter your details
If you want to download this article in PDF format, you must indicate your name and email
Al pulsar el botón de envío manifiesta haber leído la siguiente información básica sobre privacidad: El responsable del tratamiento es Buades Legal S.L. La finalidad es la atención a su solicitud de contacto. La base jurídica es su propia solicitud. Sólo comunicaremos sus datos por obligaciones legales o con su previo consentimiento. Tiene derecho a acceder, rectificar y suprimir los datos, así como otros derechos como se explica en la política de privacidad web disponible aquí
All fields are mandatory and you must accept all the conditions to download the PDF
Todo ok
Send my data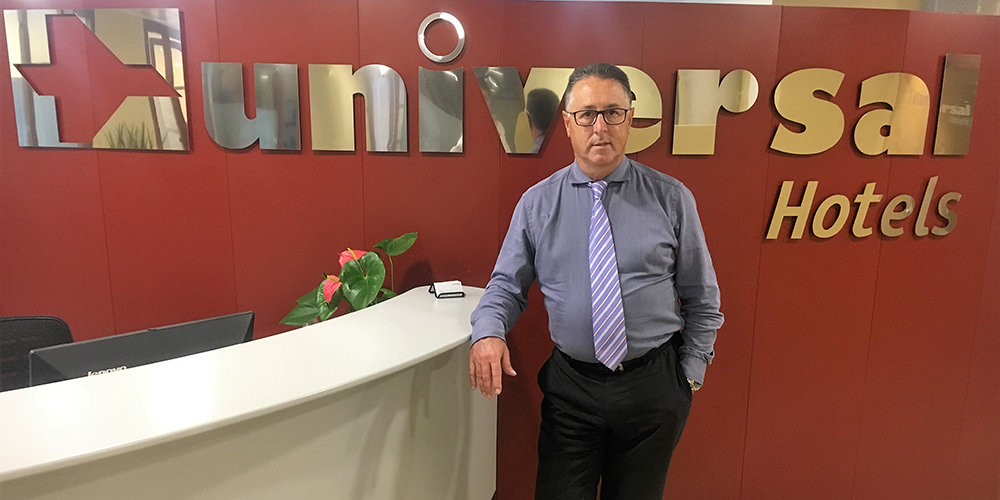 Entrevista a José Carlos González, director general del grupo Universal Hotels
A delegation from Bufete Buades attended the Universal Hotels 70th anniversary celebrations on 15 September 2017. What was it like to take part in such an emotive event alongside the Erhart family, and is there any single defining moment that will stay with you?
It would be hard to single out any one special moment: the whole event was very emotive, from first to last. A 70th anniversary doesn't come around very often, and it was a great pleasure for us to bring together all the generations of the company, our leading partners — including Joan Buades and his son— and the President of the Balearic Islands Regional Government, Francina Armengol.
The company, which currently owns sixteen hotels, has grown and evolved enormously in the 70 years since it was founded by Dr. Alfred Erhart, a pioneer in the organisation of holiday tours. In your opinion, what key factors have been decisive in the consolidation of the business so far and what is it that makes Universal Hotels different?
There are probably numerous factors, but I would begin with hospitality, personal approach and quality service. Secondly, investment in quality and in people, through training and motivation: at Universal Hotels we consider the human team our principal asset, and customer satisfaction is always the goal. And finally, our hotels are uniquely situated right on the beachfront.
Bufete Buades has been advising Universal Hotels for many years and there is a close connection between the two companies. How long has this special relationship existed and what kinds of administrative matters do you entrust to the firm?
Aside from our professional relationship, my friendship with Bufete Buades —and especially with the firm's founder, Joan— has endured a great many years and generated mutual appreciation. We are of a similar age and I have been with the company for 35 years and, if I remember rightly, we have known each other for more than 25. We have always relied on them for consultation and defence of our interests in relation to all kinds of commercial, planning, administrative and other issues.
One of the keys to consolidating a business is the personal approach, offering a quality service
With an eye to the future, what direction will the group be taking in the years to come and what services or lines of business will be the focus?
The future can be difficult to predict but we will continue to modernise our existing hotels and expect to grow through the acquisition of additional hotels in areas such as Playa de Palma, where we currently have no assets.
The tourist season in Mallorca has been exceptional, according to the visitor numbers and occupancy rates. What is your opinion of the whole debate surrounding the alleged tourist overcrowding and the effects of holiday rentals on the regulated tourism on offer?
I would say that the tourist season has been very good, as it was last season, though I'm not sure exceptional is the right term to describe it. I have information that, in July and August, some hotels were offering promotions because their occupancy rates were not what they should have been for the time of year. In terms of tourist overcrowding and the effects of holiday rentals, I support sustainability of the territory and we all need to agree on the setting of a tourist ceiling. And to do that, whether we like it or not, the holiday rental market has to be regulated and, above all, controlled.
One last question. Based on Universal Hotels' vision, experience and expertise, how would you define the tourist that stays in your establishments? Do you get a lot of repeat business?
Universal Hotels is proud to have a very high repeat business rate, hovering around 45% every year. We have loyal guests who have been coming back every year for 50 years. Some even come back to the same hotel and book the same room. As I have already said, we put this down to our personal approach, always being available to guests to meet their needs and making sure they are happy during their stay.