Enter your details
If you want to download this article in PDF format, you must indicate your name and email
Al pulsar el botón de envío manifiesta haber leído la siguiente información básica sobre privacidad: El responsable del tratamiento es Buades Legal S.L. La finalidad es la atención a su solicitud de contacto. La base jurídica es su propia solicitud. Sólo comunicaremos sus datos por obligaciones legales o con su previo consentimiento. Tiene derecho a acceder, rectificar y suprimir los datos, así como otros derechos como se explica en la política de privacidad web disponible aquí
All fields are mandatory and you must accept all the conditions to download the PDF
Todo ok
Send my data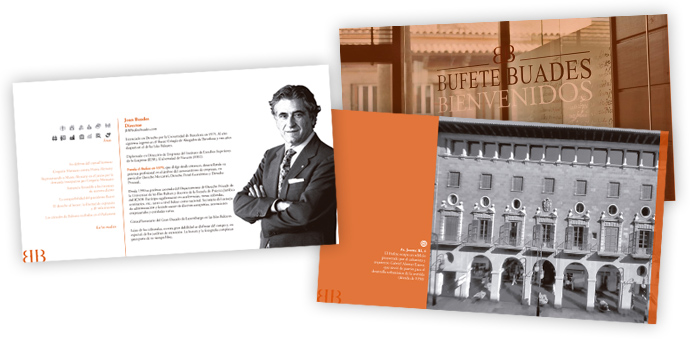 This year we are celebrating the firm's 35th anniversary, and as part of the consolidation of our firm's policy of openness and transparency for our clients, we have developed a whole series of information activities which run along these lines.
In our commitment to new technologies, which began by starting up the new website, which has a responsive version adapted to mobile devices, together with the reporting of our latest news through the firm's official accounts on Twitter and LinkedIn, we continue moving forward in this objective with the publication of our new corporate brochure. The brochure is an innovative document, which is accompanied by a large quantity of rich text, which provides access to the latest appearances of Bufete Buades in the media and to the legal articles recently published by our lawyers, grouped together by speciality.
Click on the following link to access our corporate brochure [PDF]: Comprehensive highest quality legal advice, constantly updated.