Enter your details
If you want to download this article in PDF format, you must indicate your name and email
Al pulsar el botón de envío manifiesta haber leído la siguiente información básica sobre privacidad: El responsable del tratamiento es Buades Legal S.L. La finalidad es la atención a su solicitud de contacto. La base jurídica es su propia solicitud. Sólo comunicaremos sus datos por obligaciones legales o con su previo consentimiento. Tiene derecho a acceder, rectificar y suprimir los datos, así como otros derechos como se explica en la política de privacidad web disponible aquí
All fields are mandatory and you must accept all the conditions to download the PDF
Todo ok
Send my data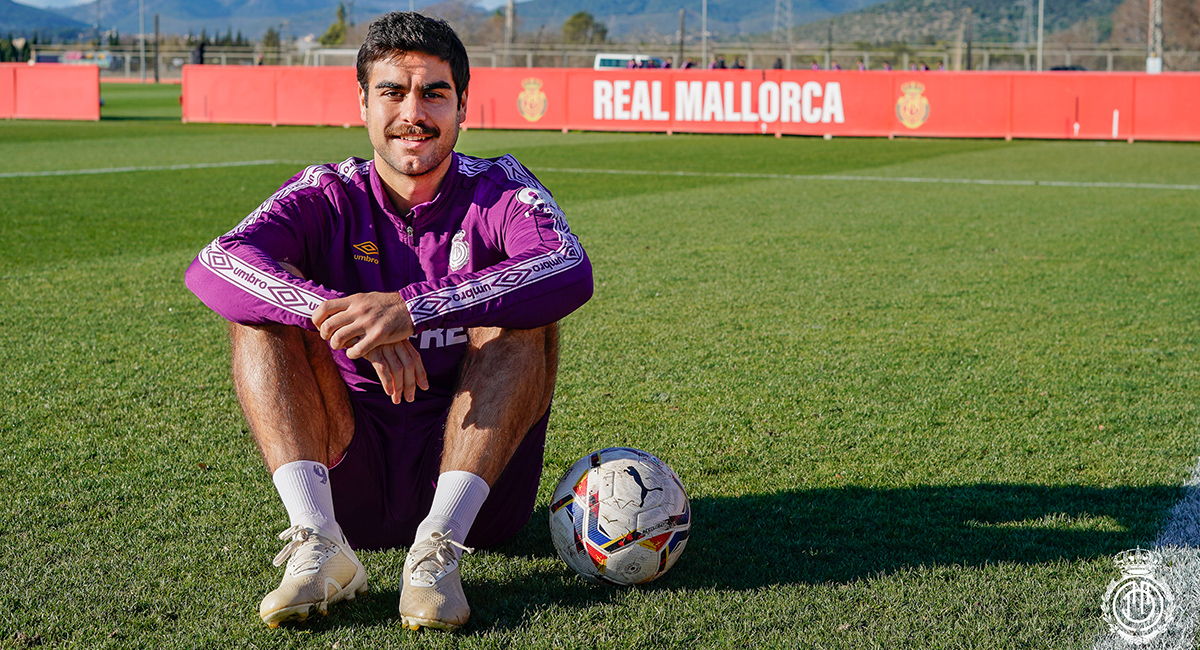 Interview with Abdón Prats, RCD Mallorca player
Did you expect a season like this one, both personally and as a group?
If I had to imagine an ideal season on returning to the second division, it'd look like this. We know that a change of coach and way of working is usually complicated. The thing is, this group has been able to adapt perfectly to any change over the years, and I believe that this has been the foundation of its success.
Personally, last year wasn't easy, and all you want to do is turn the situation around and be an important player. In the beginning, it was difficult, but then, seeing how the team was playing and how I was starting to feel, I noticed that I could contribute my qualities, and I've been able to start 11 games, and hopefully, I can play in many more of the remaining games, and we can achieve our goal. If we have the same work ethic as we've had up to now, we have a great deal of experience in these situations, and we can achieve something as big as promotion to the First Division.
Anyone with experience in this area says that the key to success in scenarios like this is to know how to deal with dips in performance that always come for every team, would you agree?
Yes, we adapt to any positive or negative situation, and I can say that in these last four years, defeats have made this team stronger. We're on a high, and that's huge. I remember that after the defeat against Sporting I spoke to one of our directors and I told him that I was calm because it wouldn't hurt us, quite the opposite. We react very well when we take blows. But the important thing is not to suffer two defeats in a row and lose ground on your rivals.
What's Abdón Prats like away from the pitch when football doesn't dominate his life and isn't a topic of conversation?
I'm very calm, relaxed. Personally, I like to connect with nature and sail. I disconnect from everything in the middle of the sea. I'm outgoing, and I like to take care of the people around me. But I also have a complicated personality; I can be a bit harsh or unfriendly in some situations. But you can't always have a smile on your face and be friendly all the time. I realise that as the years go by, I care less about what other people think and things that used to affect you don't anymore. With experience, both in sporting and personal terms, it's surprising to see how your mind and your inner self-change, knowing how to handle different situations that could affect you in the day-to-day of competing. I have to go out onto the pitch to enjoy myself, and every game I put on the Mallorca shirt and add to my history with the club is something magical that I try to enjoy to the full. Training at Son Bibiloni and playing at Son Moix is something I'd always dreamed of and to be able to be established in your local team is the best thing that can happen to you.
The last few seasons have been a rollercoaster; what do you take away from these 3 years?
To be able to play and help the club you love and win promotion 2 times, and hopefully a 3rd, that's what I take away. It's magical to play for your childhood team when you used to be in the stands at the stadium and wonder if one day you could be on the pitch. To be able to make history here is unbeatable. Sure, everything has happened so quickly in recent years, so tightly packed in a short space of time, so much so that perhaps we don't enjoy it as much as we should. To be down in Segunda B and get the fans to identify with the team again, with them bursting with emotion, to have that understanding with them and have a connection again, it's been unique. It'll go down in history, it's amazing! Hopefully, in a few months, we'll be able to say that we've achieved 3 promotions in 4 years, which is a real achievement, and it gives me goosebumps just thinking about it. For a homegrown player from Mallorca like me, it's a huge feat; I can die a happy man. We're building a golden era for the club that will be one of the most important in the club's history.
How do you feel when you relive the goal that won your promotion to the First Division against Deportivo La Coruña?
My grandparents came with me to my matches as a child. When we played away from home, they'd leave me on the pitch and for two hours while I played, they'd go for a walk around the town and then pick me up. On the day we won promotion, I told them that I wanted to have the memory of them being there and enjoy that day by my side as they've always been, being important people to me. And they came, and we were able to laugh and cry together with joy. I'm thrilled that we had that moment together and that we could give them some joy.
When I hear that goal played live on the radio, I get goosebumps. That Saint John's Eve night was magical. I remember sitting on the bench before the warm-up and looking up at the half-reddened sky, the sun going down. The atmosphere was unbelievable and the fact that we suffered until the end spiced up the occasion. The cheering of the crowd and seeing everyone jumping up and down is something I'll never forget and will always be etched on my heart.
Have you thought about what you're going to do with your life when you hang up your boots?
I haven't really thought about it yet. I think I'd like to be involved in football and hopefully, I'll be lucky enough to work at Mallorca, to be able to help the young people. I really like to look at the qualities that the young ones can have, and it'd be a very satisfying thing for me to try to help a lot of players get into the first team, to achieve their dream without getting sidetracked.
Your father-in-law is none other than Héctor Cúper, a living legend of football in Mallorca. Do you often talk about football? Do you ask for his advice or opinion?
We all know what a great figure he is for all Mallorca fans, and when we get together, we talk about training, what we do, and he gives me advice. It's incredible that we happen to be in each other's lives and share things in life, him as an icon in the past and me making history these past few years, enjoying the club's present. It's funny to be sitting at the same table as him when before I only saw him in photographs in the stadium. I enjoy sharing many football-related experiences with him.
How do you envisage the end of the season going?
I won't lie to you. We know that we have three really important weeks ahead of us, and if we can get as many points as possible, we'll have direct promotion of 95% in the bag. I think it'll be an end to the season in the same vein as we've had all year, that it'll be a success to be able to celebrate something huge again, and that'll make all Mallorca fans happy.