Search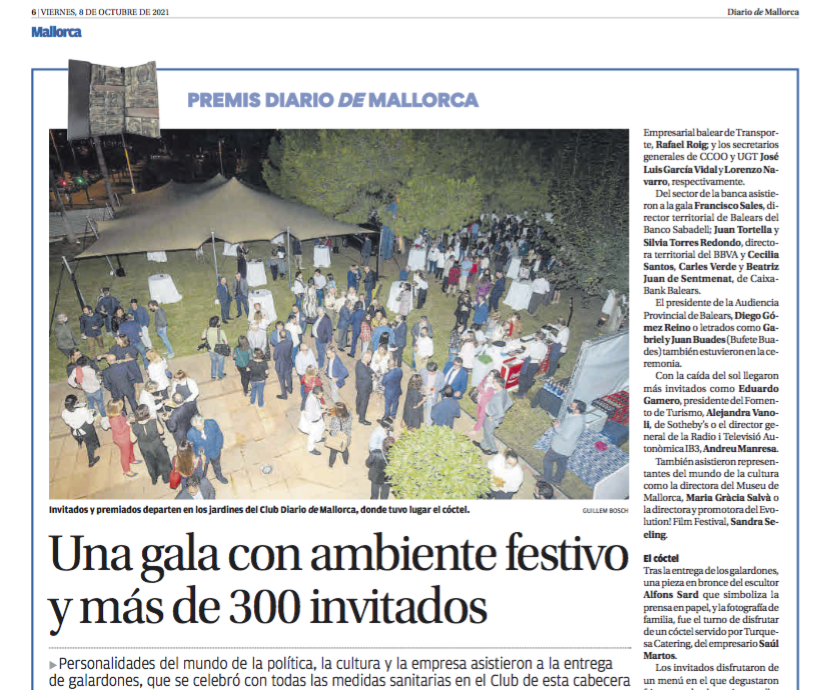 Joan y Gabriel Buades en la gala de los XX Premis Diario de Mallorca
October 8, 2021
- Diario de Mallorca
Sorry, this entry is only available in European Spanish. For the sake of viewer convenience, the content is shown below in the alternative language. You may click the link to switch the active language.
Bufete Buades estuvo representado en la gala de la vigésima edición de los Premis Diario de Mallorca por su socio director, Joan Buades, y por Gabriel Buades, socio de la firma. Durante el evento celebrado en la tarde del pasado jueves en las instalaciones en el Club Diario de Mallorca, se "reconoció la labor en el campo de la innovación, el talento y el esfuerzo de personas, empresas y entidades de la isla", ante más de 300 invitados.
Entre los galardonados, destaca en el campo de la cultura, Jaume Ripoll, productor, guionista e impulsor del Atlàntida Film Fest y cocreador de Filmin. En el ámbito de la ciencia e investigación recayó en Margalida Gili, doctora en Psicología y catedrática de Psicología Social de la UIB, primera decana de la facultad de Medicina e investigadora de los trastornos afectivos y la ansiedad, con más de 120 artículos publicados. El premio Empresa fue a parar para la compañía Sanifit, una firma biofarmacéutica en fase clínica, fundada por dos estudiantes de la UIB, que desarrolla medicamentos para combatir la calcifilaxis y la afección arterial periférica. Por otro lado, el reconocimiento a la sostenibilidad y la preservación del medio ambiente lo recibió U Energia, empresa nacida en Sóller y hoy de alcance nacional, que, además de ofrecer servicios de telecomunicaciones, comercializa energía cien por cien renovable. El premio Deportes reconocía el esfuerzo y el espíritu olímpico de Natalia Romero, doctora en Fisioterapia y profesora de la UIB que llegó a semifinales de los 800 metros en Tokio. Finalmente, en el ámbito de la Acción Social fueron reconocidos los ayuntamientos de Mallorca por las acciones municipales de apoyo a vecinos y comercios durante la pandemia.